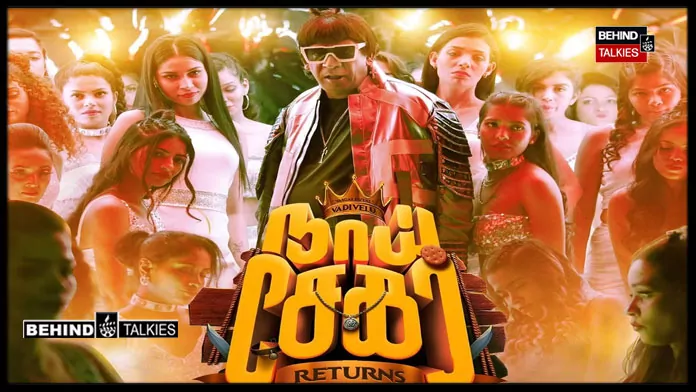 Naai Sekar Return release has created a lot of anticipation for the fans who have been waiting for Vadivel tremendous comedy.
Vadivelu's timing comedy and his body language while acting in comedy scenes are still talked about among fans. That is why the Vadivelu's famous character name ,' Nai Shekhar', is named as a movie titele for this come back movie. Effort taken ends in selecting the movie name.
Suraj ,director of this movie Nai Sekhar return, does not seem to put effort to bring vadivel masterpiece comedies or acting in this movies. The movie screenplay is not open it in an interesting manner. The second part of the film does contain good comedy, however it does not add strength to the story of the movie. Vadivelu's Antics comedies are not featured in this movie
The core of the story:The film starts with two comedy kidnappers, Dass (Anand Raj) and Naai Sekar (Vadivelu). Naai Sekhar ,indulges in dog smuggling. Later he learns that , the dog he raised during his childhood as a lucky charm, has been kidnapped. The second half of the movie deals with Naai Sekar's rescue plan of his family dog in hyderabad from one among a rich man of the city. Eventhough the story field is choosen differently, and though it has the opportunities for great comedy scenes and it could have been more entertaining ,writer of the movie failes to do so.Comedy scenes in the movie are not laughable.
Anand Raj's character is the only one best thing in the film. His combination scenes with Vadivelu are fun and worth watching.Otherwise the film has nothing to say,thought out the movie the audience is carries the empty face. Shivani Narayana done justice to the role played as a sister of Max, but character of her should have writen in better way. Whatever is given to her she have performed in it well. Sivaangi have played a short duration role which does not give an room for performance. Reddin Kingsley comedy seem to be monotonous in this movie.
Vadivel other than a comedian, he is great performer. His comedy is a trend setter still youngsters admires his acting and dialogues. A great screenplay could have helped him and his fans and this come back movie would have been successful. But unfortunately this is not the vadivel successful comeback.
The music is well composed by Santhosh Narayanan's and its an advantage to many sequence. Though this movie is not a good comeback for Vadivel.Lets hope in future he should do many roles that helps to bring out the best performer and comedian in him.