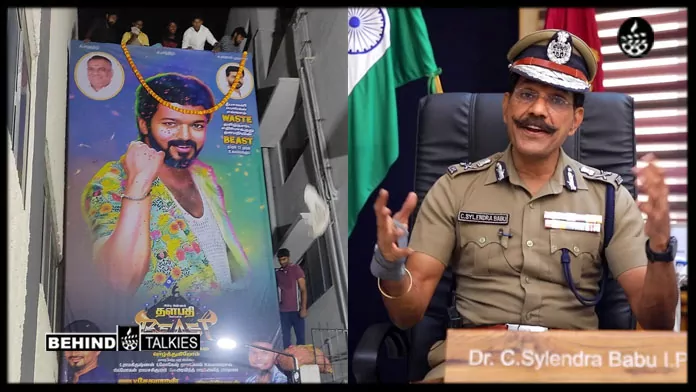 Workers Welfare Association President Ponnusamy, Tamil Nadu DGP Silenthrababu, and Chennai Police Commissioner Shankar Jival in an e-mail complaint yesterday. As the movie `Beast 'starring actor Vijay is coming out soon, many fans have gathered to celebrate the last few days before the movie cut-out.
Anointing milk:
Then he filled the 20-liter water can with milk, lifted it with one hand, and climbed on the cut-out in a state of `death if he escapes' without caring in the slightest about his family or their lives, the safety of his nearby fans and his future. Out have fans cheering.
Crashing:
Already when the films of the leading actors were released in various districts across Tamil Nadu, some of the fans lost their lives at various moments and many of them lost limbs including limbs as they crashed while climbing upstairs to bless their cut-outs.
This should be forbidden:
In a very dangerous situation, even after realizing that the cut-out would endanger those nearby, the actor climbed on the 100-foot cut-out of the film `Beast 'starring Vijay and failed to convince his fans not to condemn this reckless act of the fans. A case should be registered against actor Vijay and appropriate action should be taken.
No longer will it be permanently forbidden to climb on the cut-outs of any one actor on theatrical premises and wear evening gowns and baldness. Thus, stated in the complaint.