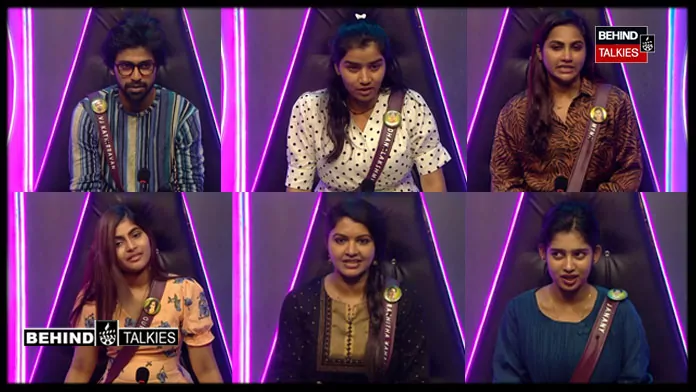 Information about the person who will be eliminated in the eighth week of Bigg Boss season 6 is currently Boss viral on social media. It has been 50 days since Bigg Boss Season 6 started on Vijay TV. Bigg Boss has made many changes to make the show more lively this time. Due to this, from the first day of the show, the contestants are given tasks and the fight starts.
Also, at the beginning of this show 20 people namely GB Muthu, Azeem, Asal, Robert, Ramasamy, ATK, Janani, Amudavanan, Robert, Maheshwari, VJ Katiravan, Ayesha, VJ Raksita, Manikandan, Metti Oli Santi, Vikraman, Quincy and Nivasini, Sivin Ganesan. are participating. Then Maina Nandini came as a wild card entry in the first week itself.
Bigg Boss Season 6:
As usual, there are riots and fights among the contestants and the show is getting hectic. So far, GP getting Metoli Shanti, Asal Choor, Sherina, Maheshwari, Niwashini and Robert have left the show. From 21 contestants to 7 contestants, 14 contestants are currently playing inside the Bigg Boss house.
Tribal and Alien Task :
Azeem won the captaincy this week. Aseem made many drastic changes immediately after becoming the captain. It was well the by the fans as well. This week the Tribes and Aliens task is given. During this task last season, there were fierce fights among the contestants. Now that is what Bigg Boss is expecting and giving this time.
Nomination List:
The aliens want to steal the wealth from the tribes. Bigg Boss says that the aliens can make the the angry any way they want. Ever since the task was given, fierce arguments have been going on among the contestants. In this case, the information about the person who is going to leave the show this week is now going viral on social media.
Person who left:
That is, Katiravan, Janani, Rakshitha, Maina, Thanalakshmi and Quincy are in the nomination list this week. In this, Katiravan this more votes and escaped. Janani and Rakshitha are getting votes after him. However, their support among the people is decreasing. Also, Quincy, who received the lowest votes on the show, is about to leave.