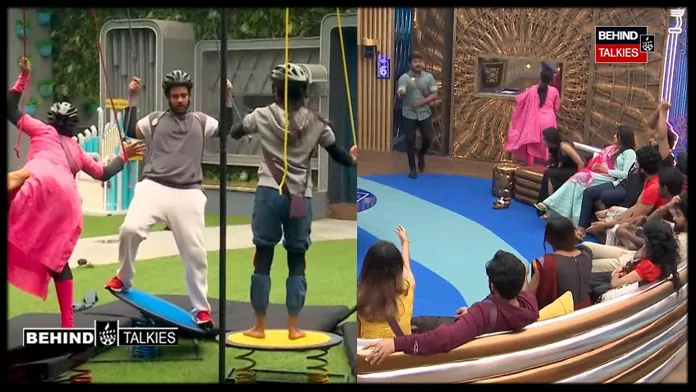 The nomination list for this week of Bigg Boss show is out now. Bigg Boss Season 6 has started on Vijay TV and now the season days are over. In the beginning of this program 20 people participated like GB Muthu, Aseem, Asal, Robert, Ramasamy, ATK, Janani, Amudavanan, VJ Maheswari, VJ Katiravan, Ayesha, VJ Maheswari, Manikandan, Metti Oli Santi, Vikraman, Quincy and Nivasini, Sivin Ganesan. There are Then Maina Nandini came as a wild card entry in the first week itself.
As usual, there are riots and fights among the contestants and the show is getting hectic. So far, GP Muthu, Metoli Shanti, Asal Colaru, Sherina, Maheshwari, Niwashini and Robert ,queency have left the show. From 21 contestants to 8 contestants, 14 contestants are currently playing inside the Bigg Boss house.
Katiravan, Janani, Rakshitha, Maina, Thanalakshmi and Quincy were on the nomination list last week. In this, Katiravan escaped by getting more votes and after Katiravan, Janani and Rakshitha got votes. Eventually Quincy was expelled. In such a situation today was the first day of the week and the nomination was held.
It is noteworthy that actor Kamal had said in yesterday's show that there will be a double eviction this week. In this situation, Manikandan, Sivin and Thanalakshmi, who were the top contenders last week, were given the captaincy task for this week. Manikandan won and became this week's leader and thus escaped from this week's nomination.
Similarly, after winning the task held last week, Dhanalakshmi went to the nomination free zone, so she also left this week's nomination. Following him, Janani, Ram, Aseem, Kathir and adk are nominated this week.
Ram is definitely expected to leave this list due to double eviction this week. Because Ram has not impressed these people since the start of this season. So, there is a high chance of him leaving. But among the remaining Janani, Ram, Aseem, Kathir, adk who do you think will leave.