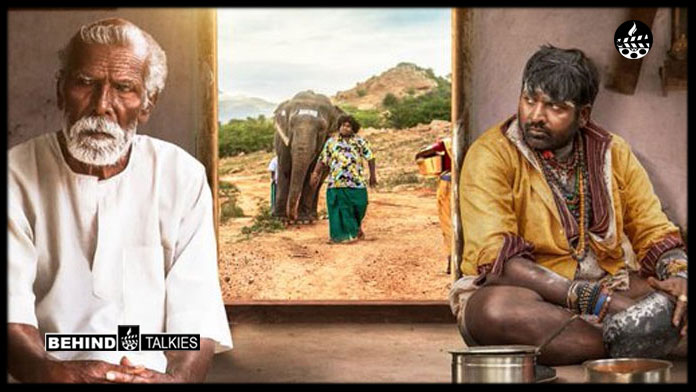 Once in a while, there comes a simple film like director Manikandan's 'Kadaisi Vivasayi' that doesn't scream for attention and yet manages to make its point most powerfully and compellingly that one never thought was possible even for films boasting of a big budget and a huge star cast. The spark for the story, written, directed, shot, and produced by Manikandan himself, came from a real-life incident that happened in southern Tamil Nadu.
Controversy in Music:
The background music composed by Ilayaraja was not satisfactory and it was controversial that Manikandan went abroad and composed music using local musicians. Due to this, the name of Ilayaraja has been removed from the film as per his request. And his music.
Review:
When the film speaks of faith or god, it doesn't necessarily speak of religion as we know it today. "Ullatha kadanthavanga than kadavul," remarks an elderly person. Their temple has no deity. Their festival includes and necessitates contributions from people from all communities. The film seeks to go earlier, to simpler times, and tap our practices of ecological and hormonal peace.
One of the older Tamil songs used in the background is 'Poyum Poyum' from Thaai Sollai Thattadhe. The opening verses roughly translate to, "Unwittingly, God gave a brain to the human species. With lies and spite, man used it to spoil the earth." This crystallizes Kadaisi Vivasayi's plea. The film argues that we need to address our tendency to ape the west under the garb of 'development' or 'modernization' and follow their dictums without any real comprehension of our land or ecological balance. And this needs to be corrected before it's too late.
Unlike his earlier films, Manikandan moves away from the middle line, and closer to the parallel cinema with Kadaisi Vivasayi. There is no aha moment that the Tamil mainstream cinema always runs towards. The film is held together by its subtext and footnotes. This makes the experience more atmospheric, and therefore, not everyone's cup of tea. Kadaisi Vivasayi is closer to life — Santhosh Narayan's oriental score is a charming exception.
Final View:
It has been shot in sync sound, which means dialogues are at conversational volumes. Most of the actors are people from the villages. (Vijay Sethupathi and Yogi Babu make cameo appearances.) And the pace of the film is consciously relaxed. In an era of dwindling attention spans and pint-sized content, films like Kadaisi Vivasayi will naturally be called 'slow'. But it's a reminder that 'slow' is not boring. Amid all the huffing and puffing, Kadaisi Vivasayi feels like a deep breath of air — wilful and refreshing.