Power Star Srinivasan is a famous Tamil actor who predominantly appears in Tamil films. He is well known as Power star. Basically, he is a doctor and initially produced some films. Having so much of interest in movies he changed his carried to acting and acted in so much of Tamil films. And he is one of the Bigg Boss Tamil Season 3 contestants. Check below for more details about Bigg Boss Power Star Srinivasan Wiki, Marriage, Latest Photos, age, Family and much more.
Power Star Srinivasan Biography
| | |
| --- | --- |
| Name | Srinivasan |
| Nick Name | Power Star |
| Profession | Doctor, Actor |
| Date of Birth | July, 1962 |
| Age | 57 |
| Father | Unknown |
| Mother | Unknown |
| Wife | Vijaya , Julie |
| Children | Lathika, Devi and Vaishnavi |
| Caste | Yadava |
| Religion | Hindu |
| Educational Qualification | Diploma in Homeopathy Pharmacy |
| School | unknown |
| College | unknown |
| Movie Debut | Pa.Ra.Palanisamy |
| Hometown | Madurai |
| Nationality | Indaian |
| Television Debut | Bigg Boss |
| Favorite Actor | Radharavi |
| Current City | Chennai |
Srinivasan Early life
Srinivasan was born and brought up in Madurai, Tamil Nadu. He was born in 1962 in Simmakkal region belongs to Madurai. After finished his school Srinivasan applied for a medical seat through government counseling. but, unluckily he didn't get the free seat.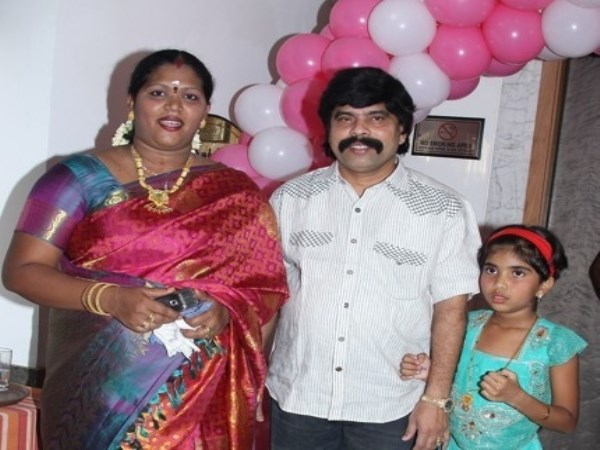 Initially, he wanted to do Homeopathy but, as he thought he can not do it, he decided to acupuncture. After completing his doctorate in acupuncture he opened his own clinic in Madurai. But, Srinivasan was not satisfied in his profession as he wants fame in any way.
Srinivasan Has married twice. He married Vijaya from Madurai. The couple had three daughters namely Lathika, Devi and Vaishnavi. After few years Srinivasan has divorced his first wife and moved to Chennai. After moving to Chennai he Married Julie from Anna Nagar and now both living happily. After got a divorce from his first wife, Srinivasan taking care of his three daughters who born to his first wife.
Srinivasan Career
While Srinivasan decided to do anything to get fame in Tamil Nadu, a lady met Srinivasan in his office and told him to produce her movie. She also suggests Srinivasan do a small role in his film and this gave him an interest to act in the film later he left his doctor job and started acting in the film.
And then he started appears in a cameo role, later he started acting in a lead role. The first movie he acted and released is Pa.Ra.Palanisamy in 2010 which was not known by anyone in Tamil Nadu. But he said the movie ran for more than 100 days successfully.
Srinivasan came limelight after the release of Lathika which was released way back on 2011. Through the film, the Tamil audience used to watch him as a comedy hero. Srinivasan admitted that the movie was a super hit film which runs more than 250 days in a single theatre. He gave so much of interviews after that film and got attention from the audience.
He conducted a 100th-day celebration in a famous mall where he invited many cinema celebrities. In that same event, he met Viduthalai Siruthai Patry Head Thirumavalavan. In fact, Thiumavalavan only named him as Power Star. After that Srinivasan used to say his name as power star only.
After Lathika got noticed by the tamil audience they started to search Srinivasan videos on youtube also. Srinivasan himself gave money to the theatre owner to not to take out his Lathika movie and the theatre owner also agrees that. through the money he got from Srinivasan the theatre owner renewed his theatre says Srinivasan in an interview.
Srinivasan continued his carrier in Tamil cinema as a comedian. And he got chance in leading south superstars in Tamil cinema. He acted in Shankar's Directional I, Super Stars Enthiran and much more. And now he still continues his acting carrier as a comedian. But, still, he used to say Superstar Rajinikanth is his only competitor.
Srinivasan Bigg Boss.
Power Star Srinivasan is well known for the tamil audience. And he is also well known for his calm and comedy nature. But, will he handle the heat and controversy in the Bigg Boss House.
To Save Power Star Srinivasan from the eviction follow the link "Bigg Boss Vote Tamil" and cast your vote.
Lesser Known fact about Power Star Srinivasan
He used to sign an autograph, cheques as power star only not in his name Srinivasan.
After the release of Lathika movie, he gave quater and biriyani for the fans to watch his movie in the theatre. For that, he spends lots of money.
In, April 2013, he was booked by the Central Crime Branch (CCB) and sent to prison and the development of more fraud cases against him led to his office in Anna Nagar. And He got jailed in Thihar.  
In an interview he shared about the experience in thihar jail, he mentioned jail is like an ashram you can learn and get peace.
If anyone unknown to him praises him in front of power star like we saw your movie ten times. He'll immediately give him 100 Rs or more as a gift for praising him.
In 2019, he contests in Lok Sabha Election in South Chennai on behalf of All India Republic Party, where he only got 670 and lose the Deposit also.